Monday, July 14, 2008
Hello
I'm still alive. Just kinda got out of the habit of blogging, or checking blogs. If ayone still reads this..tell me what's new in your life, will ya?

For me? I'm almost 27 weeks pregnant, and it's a girl! So 2 boys 2 girls. Will be fun. Her name is Ameline Gianna (Emma-lean Gee-ahn-ah). She's due October 14th.

I'm still cloth diapering, and will do it with Ameline too, I'll take pics of those stashes soon.

We're re-doing our whole downstairs floors, finally! Can't wait!

Our hot water heater blew up on Saturday morning, luckily my Dad was here to help me out.

Greg's looking to sell his route and get a new job, with diesel prices so high, it's killing us.
posted by Jen @ 11:41 AM

|
Wednesday, April 2, 2008
Gabe's new binky holder.
He loves it.
posted by Jen @ 8:14 AM

|
My first baby purchases
for only $9.00 at Kohl's!
posted by Jen @ 8:12 AM

|
Monday, March 24, 2008
Easter pics:
Easter goodies: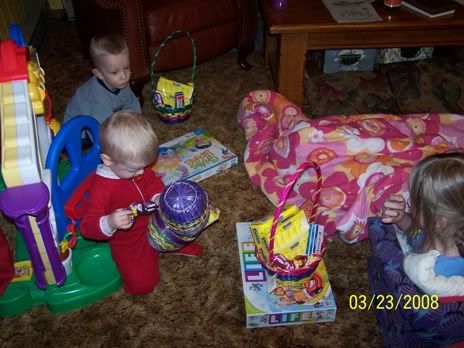 Kait and her harmonica: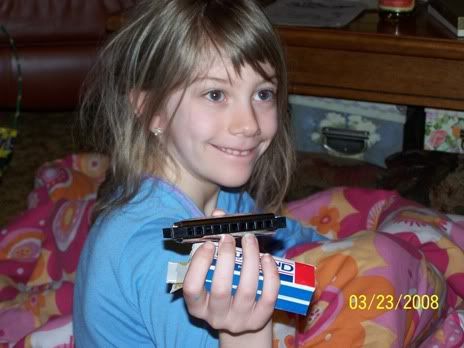 He fell asleep first: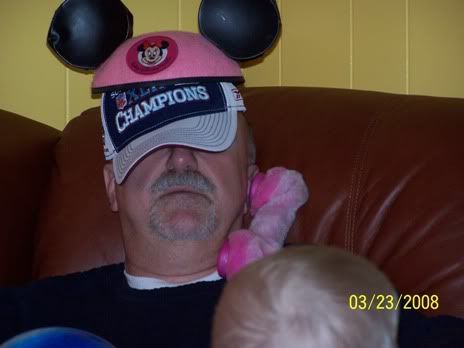 Bunny!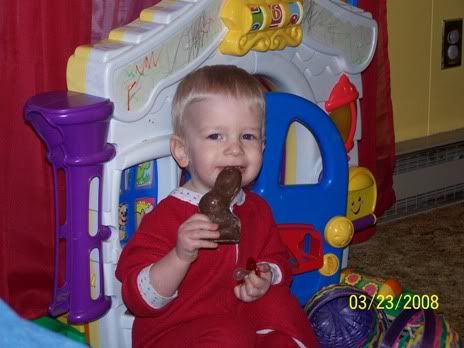 My mom and Gabe: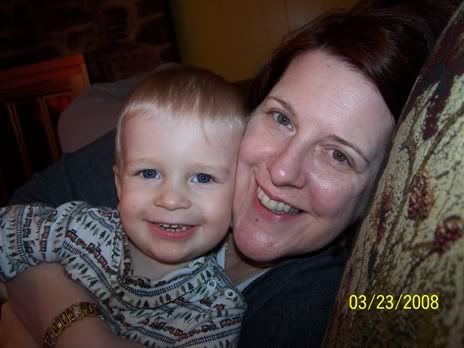 Gabe and me: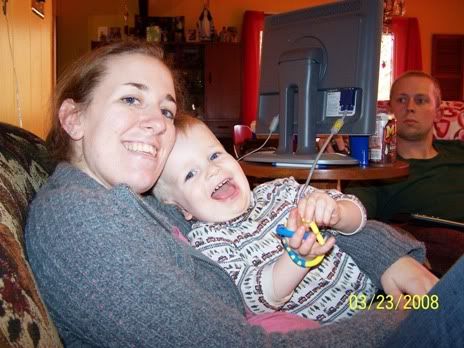 My mom and Hunter: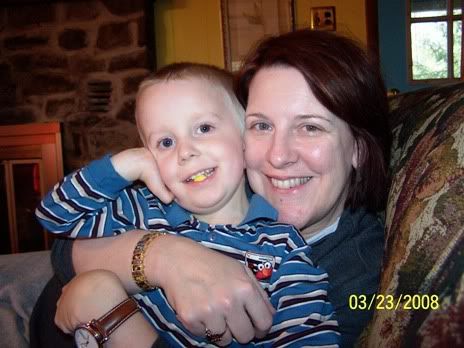 posted by Jen @ 9:58 AM

|
Dying easter eggs:
Pop-Pop and Isha helping:




Me helping Gabe: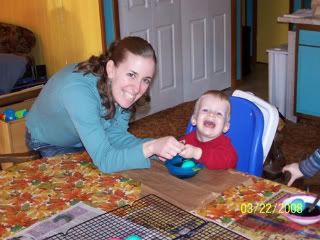 posted by Jen @ 9:56 AM

|
Monday, March 17, 2008
9 weeks 5 days
posted by Jen @ 8:49 AM

|
Just some pics
posted by Jen @ 8:46 AM

|
Thursday, February 28, 2008
Already?!
Just past 7 weeks, this is crazy. I'm bigger this time around than I was with Gabe at like 12 weeks I think.
posted by Jen @ 8:40 AM

|
Friday, February 15, 2008
Cruise Day 1
We left for Miami on Saturday morning bright and early. Our flight left Philadelphia at 8:55 AM, so I woke up at 5:00 to drive to my sister's house in Exton. I got there at 7:40, and we hurried off to the parking company that was recommended to my sister. It was a shuttle service.

When we got there, the parking lot was full, so they directed us to a new one that was a little bit down the road. We panicked a little, but got there ok. They drove us there, and in we went. We had times it nice, only about 45 minutes total until our flight left, so we went right through security, and got some coffee. By the time we finished that, it was about 5 mins until we boarded the plane.

The best part about the ride down was we were in first class. My sister has a lot of miles, and she used them for these tickets, and got first class. It was early, yet we still managed to order cranberry juice and vodkas. :) The guy started by giving us one cup with more than a shot in it, then gave us another for the next one. We felt obliged to finish them, so when he saw we were low, he brought us more! Of course we finished those too, so by the time we hit Miami we were pretty nicely buzzed. Before noon. LOL

We landed, and took the shuttle to the Courtyard Marriot Airport South. It was the host hotel for the pre-party for the cruise. We checked in, and minus the mess downstairs due to renovations, it was quite nice. we went right to lunch, since we were starving. We saw a little cuban restaurant down the road, so walked there. We were not impressed with the service, as they were rude and ignored us, and the food was good, until I found a hair in it. We paid, and left. I think I got poisoning from it a bit, because I was sick all that night then.

We hung around the room waiting for our friend Lisa to come to Miami, and she finally came at 5:40. Around this time, we went downstairs to the preparty, and booked our shuttle tickets to the port for tomorrow morning. We checked out the party, but at 7 dollars a hotdog or cheeseburger, and 7 dollars for a can of beer, we decided to walk to a sub place down the road.

We ate dinner, and then went back to the party. It was an insane crush of people, so after walking around a bit, we decided to head back to the room. We all got in pj's and watched a scary movie on TV, followed my Mythbusters. Then we went to bed. I tossed and turned until morning. I was too excited to sleep.

Sunday coming soon...
posted by Jen @ 8:22 AM

|
Thursday, February 14, 2008
It was that kind of party.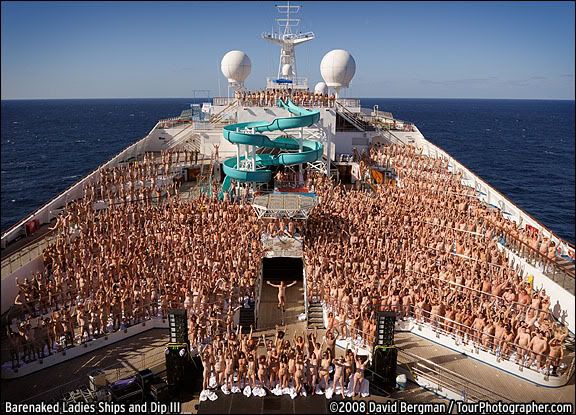 posted by Jen @ 12:17 PM

|
About Me

Name: Jen
Home: Pennsylvania, United States
About Me: I'm married, and have four wonderful children named Kaitlyn, Hunter, Gabriel, and Ameline.
See my complete profile
Previous Post
Archives
Links
Template By